A cashew producer in India wanted to use image processing to automatically detect cashew grades based on size and remove low quality cashews.
The company would need new hardware with a camera interface and a unique algorithm.
The hardware would need to process 10 cashews/second, bringing a single cashew into a camera frame at a time.
Designed a conveyer belt to deliver individual cashews to the camera, making processing and algorithm implementation easier and faster.
Designed and developed an FPGA-based board to implement the algorithm and enable the high frame rate to process 10 cashews/second.
Enabled continuous improvement with an optimised algorithm and better camera module.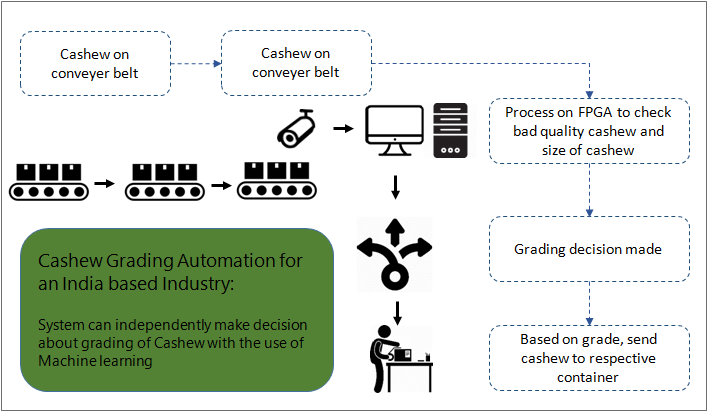 Machine Learning enables independent grading of cashews
Cashew enters conveyer bel
Cashew travels down conveyor belt
FPGA-based algorithm checks cashew quality
Cashew sent to suitable container based on grade
Increased the accuracy and efficiency of cashew grading.
Increased revenues by enabling company to sell more cashews with high quality grading.
Reduced manual labor costs through automation.