A major healthcare organization wanted Application Management Support (AMS) for its Enterprise Resource Planning (ERP) system.
More than 200 users use and update the system simultaneously.
Patient medical records and financial details needed to be kept in a secure, centralized server.
The AMS needed customized modifications and upgrades.
An off-site team managed the application, providing root-cause and performance analyses.
A new function enabled the client to improve reporting to third-parties such as insurance companies, corporate clients, and government departments.
Defined a back-up strategy to ensure security.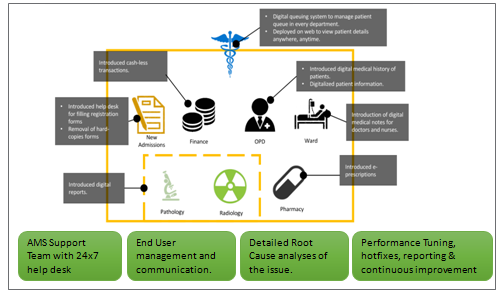 Reduced instances of technical issues during maintenance.
Saved costs with improved reporting.
Achieved lowest third-party dispute rate.
Defined a strategy for cloud-based solutions.