Gujarat state in India wanted to digitalize the account books of more than 2,200 government schools.
All the schools were located in remote villages in Rajkot and Jamnagar.
The process would need to compile and enter data into accounting software and produce monthly reports for the government.
The system would be used by more than 150 accountants working in remote areas.
Xpertnest collected schools into 32 clusters and appointed staff to each cluster.
Developed a daily monitoring and reporting system for tracking work.
Provided a data entry tool for reducing the duplication of work, and deployed a verification system for data accuracy.
Built a report generation tool to deliver daily reports to government.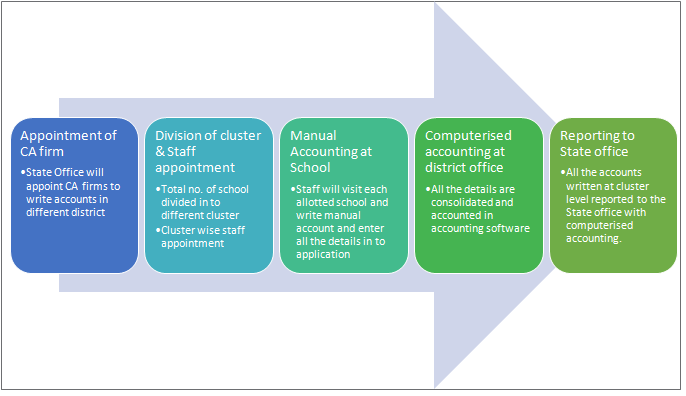 Appointment of accountancy firmState office appoints accountancy firms to write accounts in each district
Cluster division and staffingDivided schools into clusters and appointed staff to each cluster
Manual school accountingStaff visit each school and enter accounts manually
Computerised accounting at district officeConsolidated and accounted data in accounting software
Reporting to state officeReported all computerized cluster-level accounts to state office.
Computerized accounts even in places that lack computer and internet access.
Saved the costs of hiring an accountant for each school.
Gave government better financial control over school grants.
Improved funding and increased savings by identifying idle funds.
Improved resource planning.